Welcome to the Chesapeake Chapter of Sisters in Crime, a chapter of the international organization Sisters in Crime. We are authors, readers, agents, editors, booksellers, and librarians sharing a love for the mystery genre and our support of women who write mysteries. Our chapter covers Maryland, Northern Virginia, and Washington DC but we welcome all mystery lovers. Please join us for a meeting!
*For details go to Meetings Page*
---
– ZOOM MEETING –
PICK YOUR POISON
Saturday, June 5, 2021
Time:  12:40 pm –  Mingling
 1:00 pm –  Presentation
Stop by our June meeting to hear expert Luci Zahray teach us how to spice up our pages with Agatha Christie's favorite murder weapon: poison.
As a lifelong lover of books, Luci has been an active member of the crime fiction community for many years. A Texas pharmacist with a master's degree in toxicology, she loves sharing her knowledge—regularly speaking at Malice Domestic and the New England Crime Bake—and has earned the nickname, "The Poison Lady." She's also a Sherlockian, a judge for the Minotaur Books/Malice Domestic Best First Traditional Mystery Novel Competition, and a poison consultant to mystery authors.
You don't want to miss this chance to learn from Luci's wealth of poison knowledge, which ranges from everyday plants, to over-the-counter medications, to household chemicals.
*For details go to Meetings Page*
---
** Due to the current COVID-19 restrictions on in-person meetings in the MD/DC/VA region, we are conducting online meetings. Check back here for updates on future chapter meetings and events.**
---
Chesapeake Crimes
The eighth volume of the Chesapeake Crimes series, Fur, Feathers, and Felonies, is now available for purchase.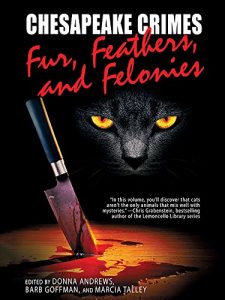 The anthology, published by Wildside Press, features short stories by:
Karen Cantwell
Carla Coupe
Barb Goffman
Eleanor Cawood Jones
Linda Lombardi
Alan Orloff
Josh Pachter
KM Rockwood
Shari Randall
Joanna Campbell Slan
Marianne Wilski Strong
Robin Templeton
Cathy Wiley
Donna Andrews, Barb Goffman, and Marcia Talley were the coordinating editors. The members of the editorial panel were Brendan DuBois, Mary Jane Maffini, and Leigh Perry.
Available from the publisher, as well as from:
—Mystery Loves Company Booksellers
—Barnesandnoble.com
—Amazon.com
Previous titles in the series are also available. Read more about them here.
Chesapeake Crimes I
Chesapeake Crimes II
Chesapeake Crimes 3
Chesapeake Crimes 4: They Had It Comin'
Chesapeake Crimes 5: This Job Is Murder
Chesapeake Crimes 6: Homicidal Holidays
Chesapeake Crimes 7: Storm Warning
Invite an Author to Your Book Club or Library
What's more fun than immersing yourself in a good mystery? Discussing it with the author! The Chesapeake Chapter's published authors are available to attend book discussion groups or to appear at library events. If you'd like to meet local writers and talk with them about their work, contact the chapter's Library Liaison, Cathy Wiley, for help in setting up an event.