Welcome to the Chesapeake Chapter of Sisters in Crime, a chapter of the international organization Sisters in Crime. We are authors, readers, agents, editors, booksellers, and librarians sharing a love for the mystery genre and our support of women who write mysteries. Our chapter covers Maryland, Northern Virginia, and Washington DC but we welcome all mystery lovers. Please join us for a meeting!
*For details go to Meetings Page*
---
IN-PERSON MEETING
December 2, 2023
CHAPTER AUTHOR EXTRAVAGANZA
Donna Andrews, E. A. Aymar, Kathleen Bailey, Kathryn Prater Bomey, Karen Cantwell, Maya Corrigan, Barb Goffman, Jeffrey James Higgins, Libby Klein, Tara Laskowski, Jane Limprecht, Paula Mays, Adam Meyer, Josh Pachter, Jacque Rosman/Jacqueline Corcoran, Daphne Silver, Shannon Taft, Art Taylor, Cathy Wiley & Stacy Woodson
*For details go to Meetings Page*
---
** Due to COVID concerns, we've held ZOOM meetings in the last few years. Starting in November 2022, some in-person meetings with online options were added. Check back here for updates on future chapter meetings and events.**
---
Chesapeake Crimes
Chesapeake Crimes 9: Invitation to Murder
Another short-story anthology in the award-winning Chesapeake Crimes series, published by Wildside Press, including: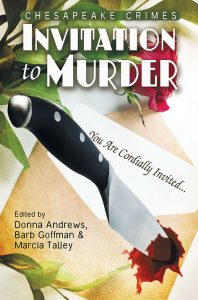 Introduction by Dana Cameron
"The Dame and Thaddeus Birdwhistle" by Karen Cantwell
"Secrets to the Grave" by K.M. Rockwood
"The Mysterious Affair at the Escape Room" by Leone Ciporin
"The Do-Gooder" by Adam Meyer
"The Problem with Open-Ended Invitations" by Cathy Wiley
"Muggins" by Josh Pachter
"The Killing Winds" by Mary Stojak
"Make New Friends, But Keep the Old" by Jane Limprecht
"Good Morning, Green Leaf Class" by Sarah Cotter
"The Great Bedbug Incident and the Invitation of Doom" by
Eleanor Cawood Jones (Derringer Award winner)
"Guns and Yoga" by Maureen Klovers
"RFP/RIP" by Britt Alan
"Aumakua" by Maddi Davidson
"The Color of Envy" by Joanna Campbell Slan
"True Colors" by Robin Templeton
"All Tomorrow's Parties" by Art Taylor
"Sunnyside" by Stacy Woodson
Donna Andrews, Barb Goffman, and Marcia Talley were the coordinating editors. The members of the editorial panel were Greg Herren, G.M. Malliet, and James Lincoln Warren.
Available from the publisher, as well as from:
—Mystery Loves Company Booksellers
—Barnesandnoble.com
—Amazon.com
Previous titles in the series are also available. Read more about them here.
Chesapeake Crimes I
Chesapeake Crimes II
Chesapeake Crimes 3
Chesapeake Crimes 4: They Had It Comin'
Chesapeake Crimes 5: This Job Is Murder
Chesapeake Crimes 6: Homicidal Holidays
Chesapeake Crimes 7: Storm Warning
Chesapeake Crimes 8: Fur, Feathers and Felonies
Invite an Author to Your Book Club or Library
What's more fun than immersing yourself in a good mystery? Discussing it with the author! The Chesapeake Chapter's published authors are available to attend book discussion groups or to appear at library events. If you'd like to meet local writers and talk with them about their work, contact the chapter's Library Liaison, Cathy Wiley, for help in setting up an event.